Discover more from Zachary Shakked
I write about building successful app businesses and my other occasional thoughts. Founder of Hashtag Expert, Caption Expert, Command - ($4m ARR)
Lifehacker Wants a Story? Viral Reddit Post Continued - $100k App Challenge #4
Where did we leave off… ah yes. So, I had that viral Reddit post where I asked if people would be interested in seeing a bunch of recipes for healthy meals that could be made with virtually zero cooking and cleaning, in under 10 minutes or less. That post did awesomely.
Remember, my rationale for this post was simple—I'm trying to figure out if there's interest in an app about this topic. I wanted to focus on the weight-loss angle because it's an incredibly profitable category. That became apparent after my in-depth App Store research last week. Weightloss apps like MyFitnessPal, Noom, Weight Watchers, and Lose It! are some of the highest-grossing Health & Fitness apps.
So, next, I had to actually make that zero-cooking time meal-prep post which would further gauge interest in this concept. That's exactly what I did. Over the next few days, I brainstormed a bunch of meals. Luckily, I've been eating semi-vegetarian recently so I've been trying tons of new foods. I quickly threw together a menu:
Lentil-Tahini Mash with Brown Rice and Veggies

Greek Salad

Hummus Chickpea and Sweet Potatoe Protein Bowl

Tuna Fish Sandwiches

Mexican Burrito Bowl
I went grocery shopping and bought all the ingredients for these recipes. This is what that looked like: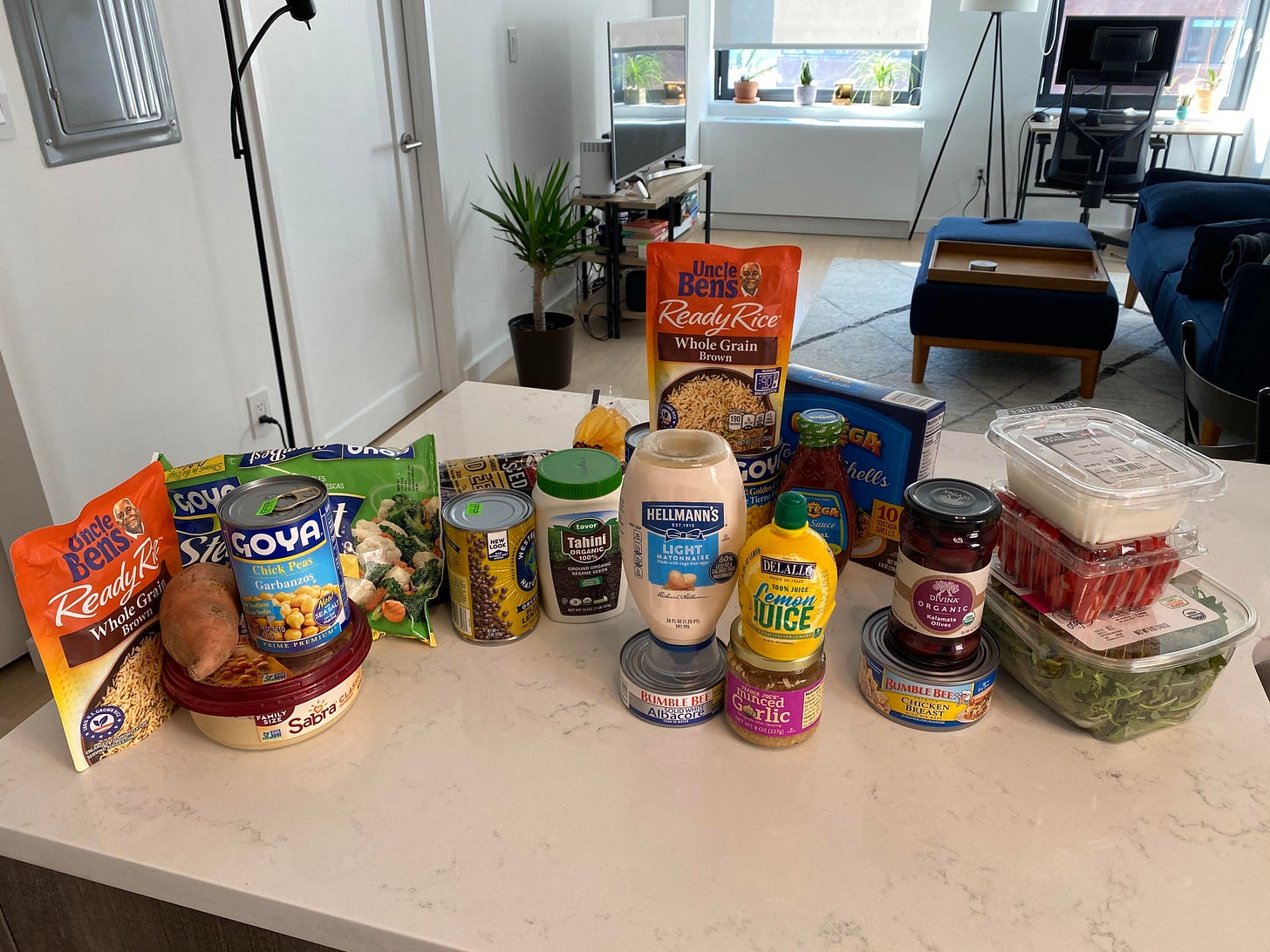 Then, I set a stopwatch and timed how fast I could make these meals. My goals was 2 servings of every meal I mentioned above. It took me 25 minutes total, including cleaning. Most of that time was waiting for things to microwave. Here's how it came out: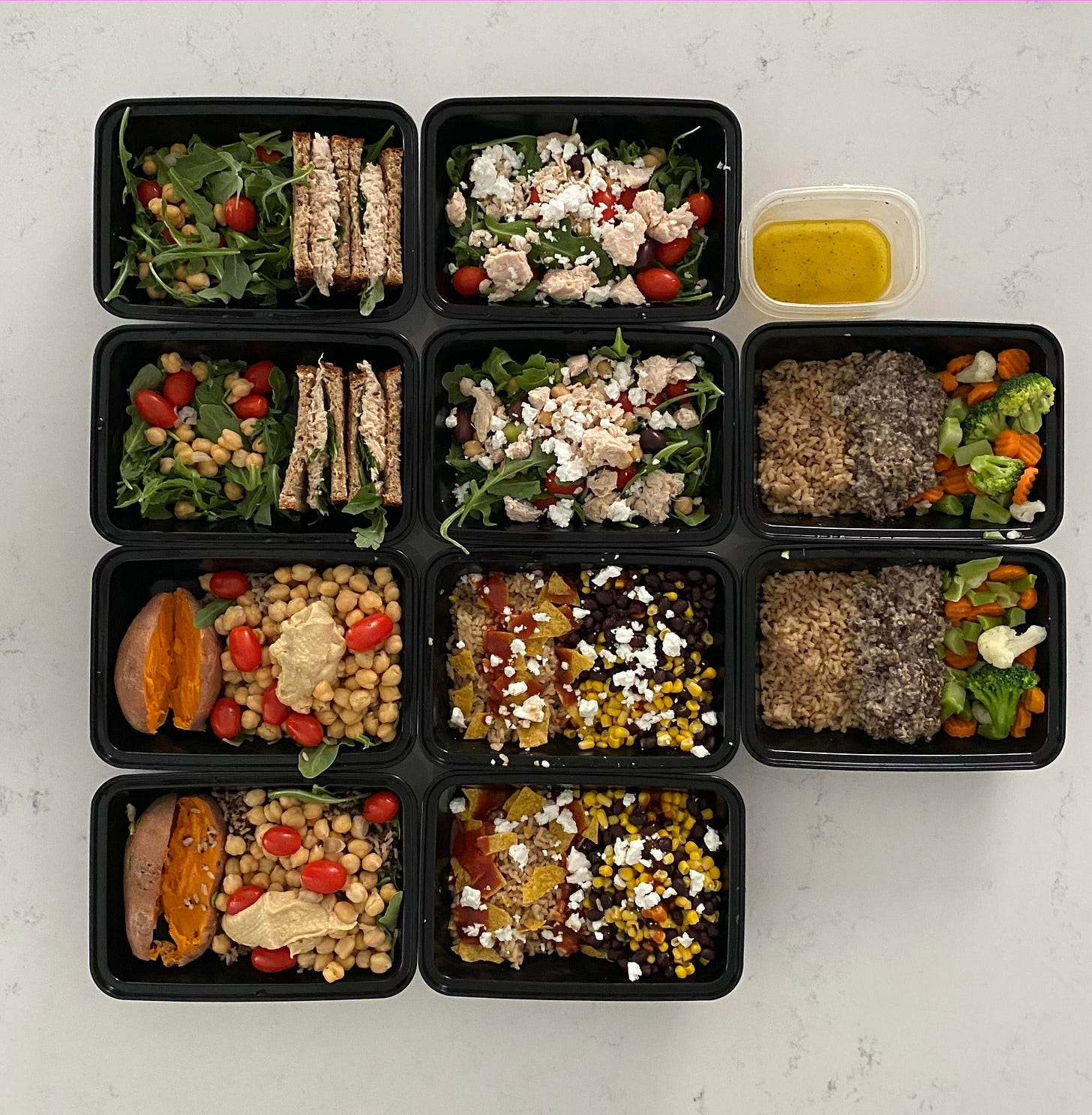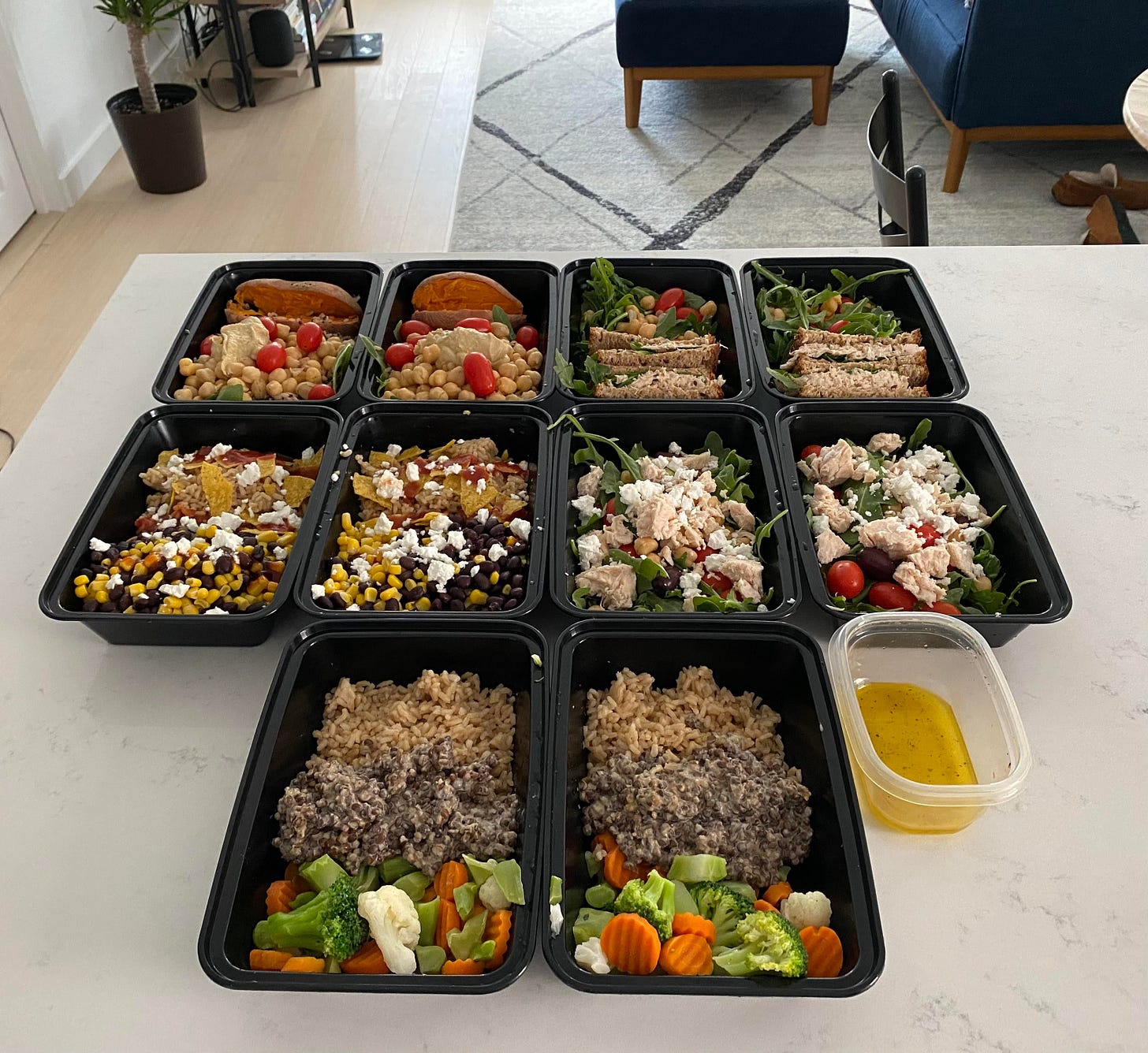 Not bad, right? All this food in 25 minutes, using only a strainer, a microwave, a can-opener, and a knife.
So I then wrote up all the recipes with ingredient lists, instructions, and pictures and packaged them into one giant Reddit post. I posted it back onto the original subreddit, where my previous post went viral, r/mealprepsunday. It did OK—62 upvotes. I think I messed up by making the title for my post too clickbaity "Zero Cook Meal Prep 10 Meals in 25 Minutes w/ Recipes (no cleanup)." However, the comments were very encouraging and somebody gifted me Reddit gold and silver, currencies on the website: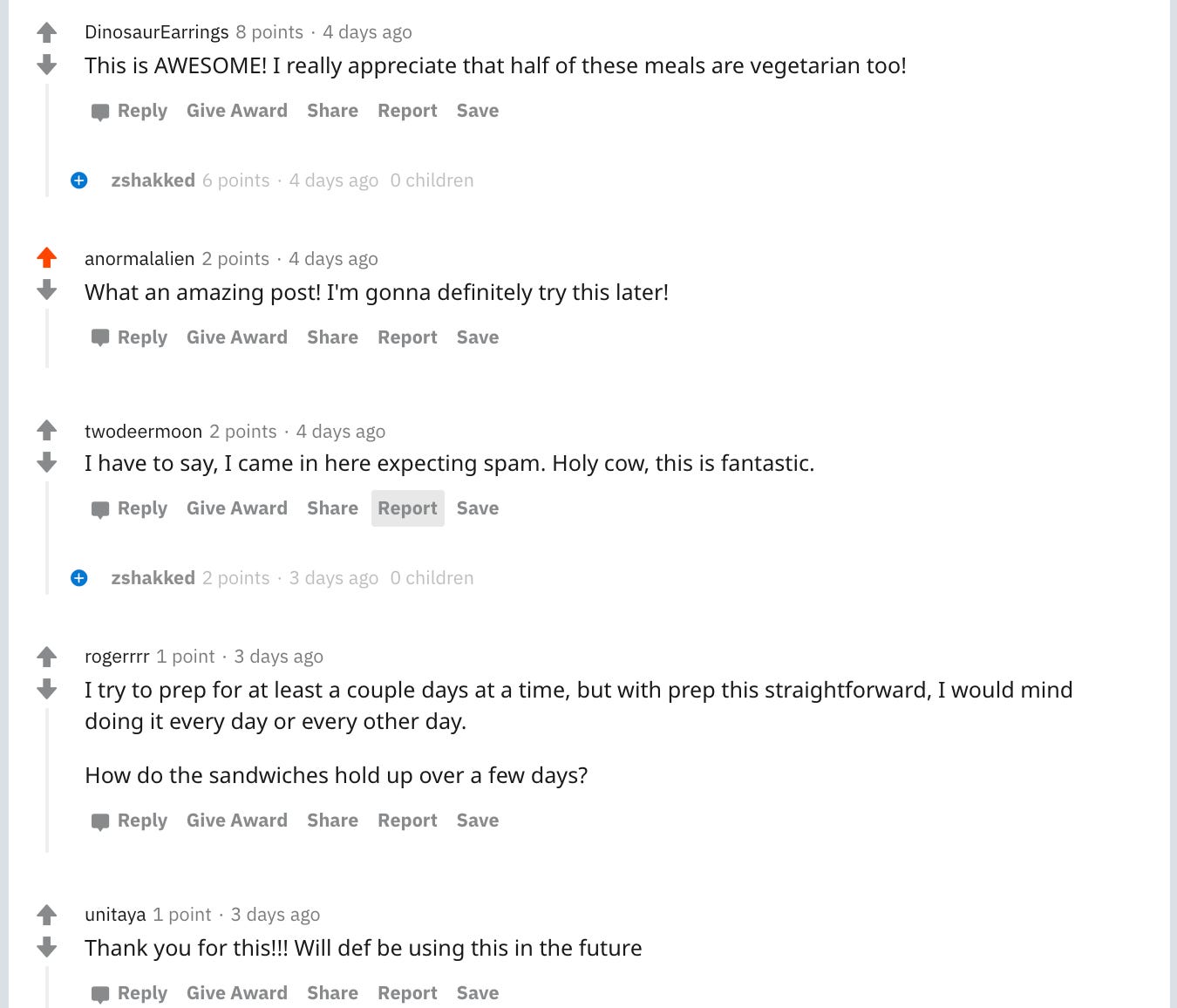 The next day, I decided to repost virtually the same content into a few different subreddits but customized for the community. I posted it in r/loseit (a major weight loss community), r/recipes, and r/15minutefood. It did great in the weight loss subreddit, getting over 200 upvotes and 30+ comments, proving to me further than this concept could be seen as a tool for weight loss. One person even commented that it should be turned into a cookbook, which a lot of people agreed with (20 upvotes):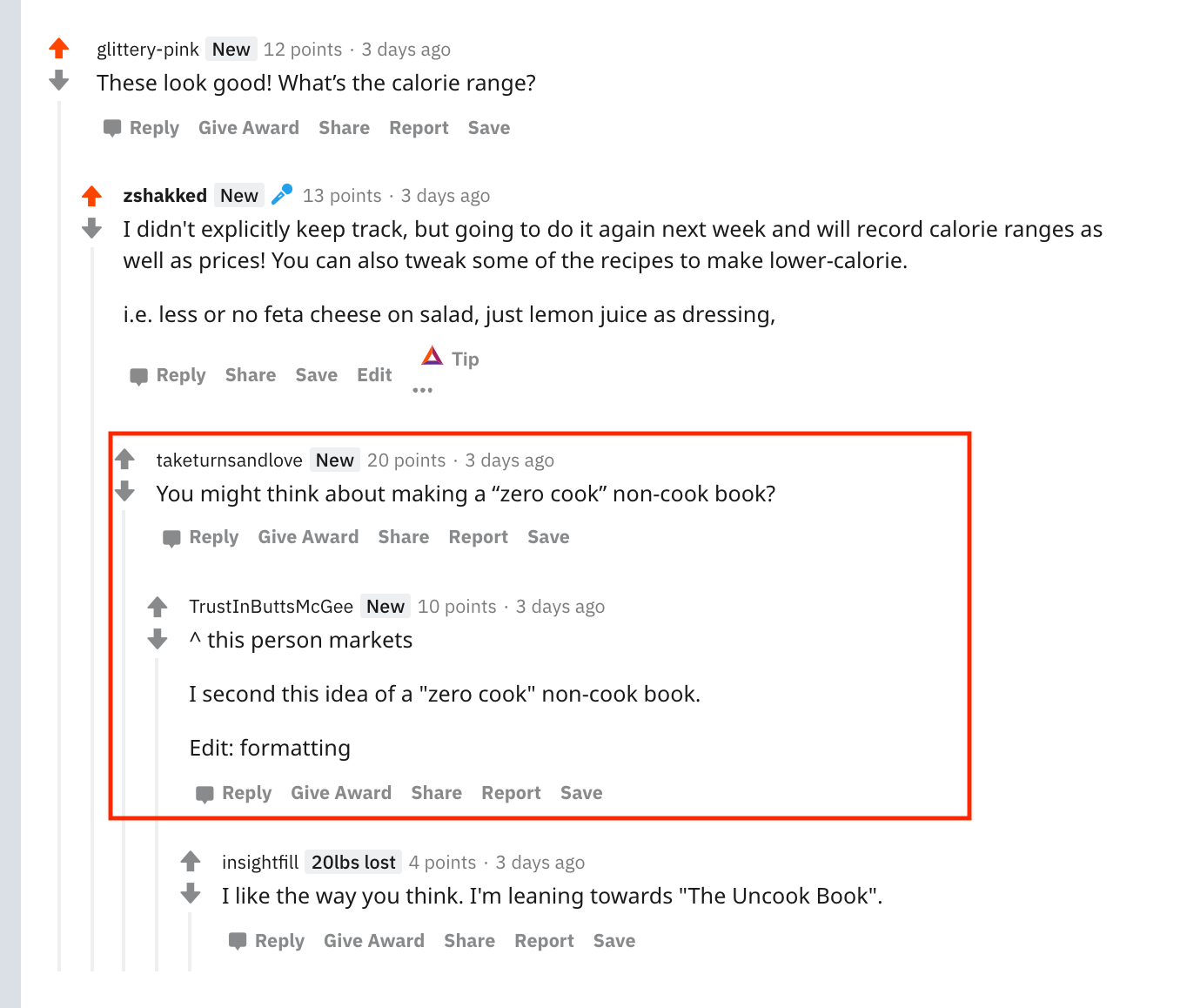 The app will essentially be an interactive cookbook and community. So the fact that people are organically asking for that without me saying anything is great to hear, especially from a weight loss group.
Wait … who messaged me?
The story gets a bit more interesting. I checked my Reddit messages and saw this:

I confirmed her identity—this is a legit post. The orange [A] next to her name means she works at Reddit. Lifehacker wants to do a story on the no-cook meals and recipes. Jackpot.
At this point, I have all the data I need to know that there is significant interest in no-cook meal prep recipes. Notice, I haven't written a single line of code yet. Imagine I made all these posts and they totally flopped—then I'd go back to the drawing board and brainstorm some new ideas and problems. To be frank, I've never had so much validation before building a product. I'm getting super excited.
I'm not sure it is completely clear why I'm making Reddit posts and how I turn that into an app. Here's why: the core question with any product is 1) are there people out there who are interested in the problem this product solves and 2) are they willing to pay for it to be solved. We started by answering question two based on App Store research. There are tons of weight loss apps that make loads of money—if I could build an app seen as a solution or a tool for losing weight, I could probably charge for it and profit. Question 1 was answered via these Reddit posts—are people interested in this concept of zero cooking meal prep recipes? The answer is an overwhelming yes—and the community where I got the best reception was … drum roll, please … a weight loss community.
Next Steps
So, let's talk next steps. First, I'm going to build a landing page for this app. It's going to be a URL where I briefly describe what the app does, show some cool mockups and designs of it, and have a form to start collecting emails. Second, I'm going to create an LLC for the app which I'll talk about in-depth in a different post. Third, is start wireframing the app and thinking about how it is going to work and what the flows are going to be. Once I feel that is solidified, I'm going to start coding.
In the mean-time, I'm going to keep posting new recipes and tutorials on Reddit to the various communities. I'm going to try attaching calories and pricing information and see if there is interest in that as well. I'll continue using the Reddit posts as a way to ask questions about the product. I'll be getting more and more specific. I'm also going to try to subtly start promoting my landing page to hopefully collect some emails.
The goal is to have a few thousand people on an email list for when the app launches. That way on launch day, I can press a button and zoom as far up the app charts as possible.
Either way, at this point, I feel confident that this business is already appearing to have substantial potential. Things should start to get interesting very quickly.